I'm having such fun playing with my new camera. I'm testing out the free apps available for the iPhone so I can edit pictures on the go (one less excuse not to blog!). Hilariously, my computer is so old that I can't use iCloud to wirelessly share photos between it and my phone. Talk about a generation gap. 
Anyway, here's Camera360 in action:
This is the greek circle in our wonderful "towne" center1 . I love it. It's filled with kitschy little boutiques and high-class, once-in-a-while restaurants. The very bricks seem to smile when I walk over there, and as it is an easy walking distance from work I often do a little window shopping during my lunch break. It's a great place to practice photography, but I have to get over being camera shy first. I swiped the photo above in a hasty second before shoving the phone back in my purse and checking to see if anyone saw me. Not that the people there care, but annoyingly I do.
Anyway, this is actually a productivity post. Yes, I'm info-dumping on you and not even trying to hide it. Shameless. My current projects include a simple Pink Blouse, New Look 6628, in a slightly stretchy cotton. My grandmother helped me place the pattern and cut out the pieces (in *cough* August *cough*). I've completed the front and back and just need to tackle the collar and button band before putting the whole thing together.
Then there's the Floral dress: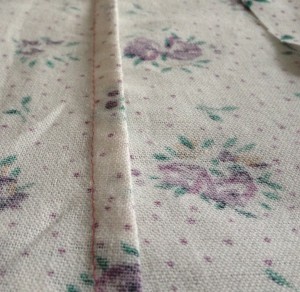 Look at that french seam! I'm aiming for a wearable muslin for this. Honestly I think the fabric is better suited for pajamas than day wear; however, I'm hoping that with the right accessory I can make it outside-appropriate, because this dress is going to be stunning. At least on the inside. Using Project Runaway 2848, the garment has those long, uninterrupted vertical seams which I love, and kangaroo pockets, which I'm conflicted about. Pockets are always good, and these are just the right size, but do I really want a pouch right on my stomach?
I'm less indecisive about the yards of yummy fabric now safely stashed in my closet. My grandmother gave me A LOT of fabric when I was down there last. I don't have plans for all of it yet, rather I'm focusing on growing my skills and techniques. My sewing goals right now are simply to learn how and to get a better grasp on all the spatial awareness/3D stuff which I'm constantly blanking on. I do want to get into the habit of matching fabrics and patterns. My first real knitting project, I attempted to make delicate, finger-weight wristlets out of the bulkiest yearn in the store. I still struggle with this tendency to ignore the potential of my materials in pursuit of a imaginary final result. Which brings me to slowing down. As a product-crafter I'm always trying to rush through a project and cut corners. This might possibly work for experienced seamstresses, and moms, but can only mean complete disaster for this spatial-lightwieght. So meticulous attention to detail and a journey-over-destination mentality are major priorities.
Of course, the real joy is the finished object . . . . . .
Socks Off
(↵ returns to text)
the 'e' has no sound but lots of weight↵