I finally went to Art Things yesterday and found myself an Awl.1 I've been looking for one passively for the past few months. Back in March I found myself in a lovely little stationary store and asked the Lady at the counter. "Oh, that's something they would probably carry at Art Things, have you been there?" She asked. "It's really cool." And it was indeed really cool. Crammed to the brim with everything from clay to handmade paper to blocks of beeswax and Asian ink stones. There were brushes and pens and a whole cabinet of glues specifically for paper; and they have the cleverest little bureaus with deep, wide, shallow drawers filled with a mind numbing array of paper options. And yes, they even had a book awl, for putting holes in paper.
In fact, they had three – round and wooden, straight and wooden, and medium – and not only did they have it, and know right where it was, but the kind lady who found it for me knew that the round one was for working in by hand and the straight one was for pounding in with a hammer.
So I made my first little booklet.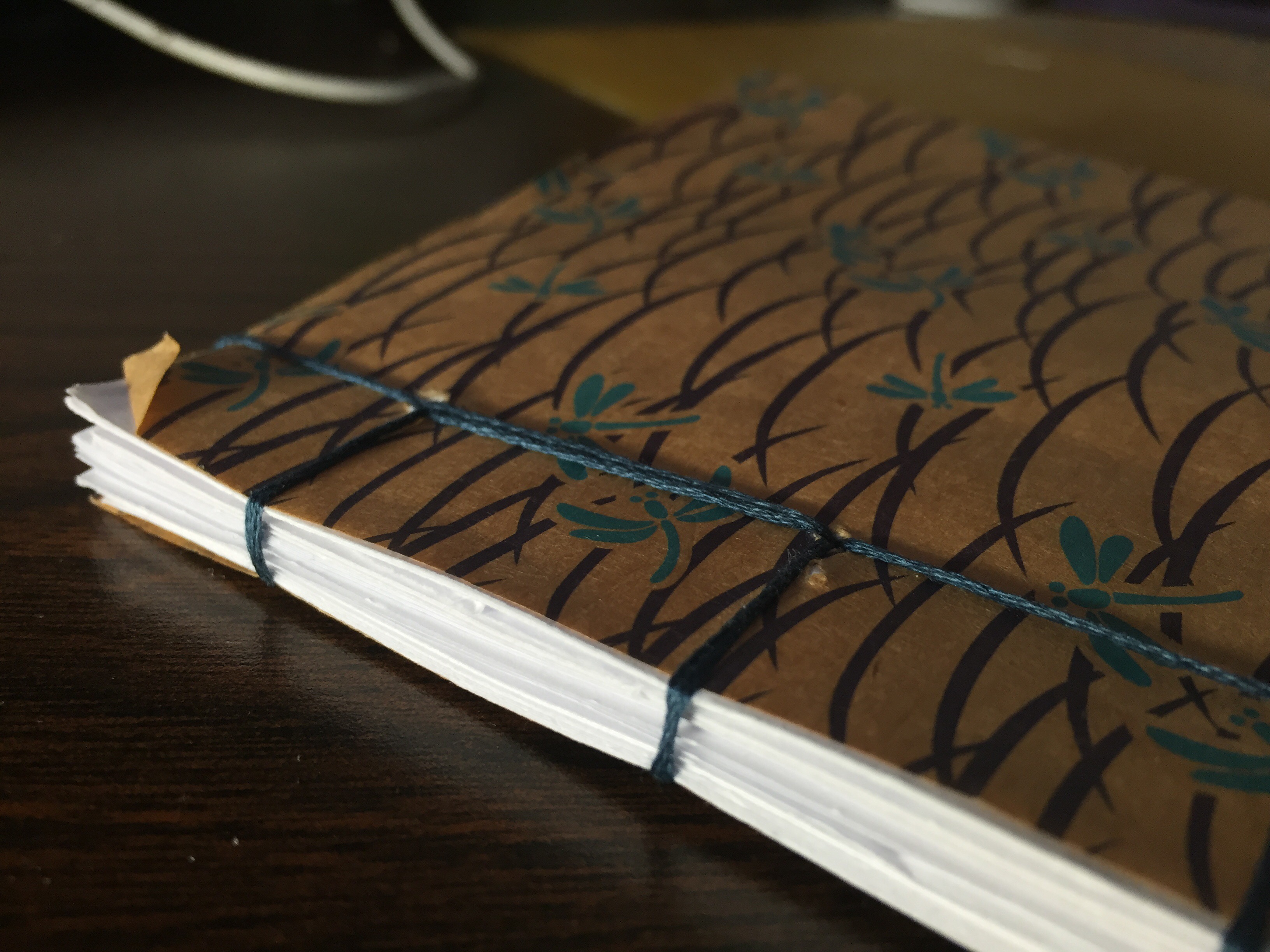 This is a basic Japanese Stab Binding, which you can either google or go to this slightly spammy page. Wouldn't it be awesome if I one day reached this level? But as you can see, I am not there yet. I used one of my flimsy plastic cutting boards instead of a mat, sliced 16 sheets of letter paper into fourths using the simple expedient of folding the pages rather than measuring them, and didn't precisely line my papers up before stabbing away. The effect is rather homey.
Awl that to say, I'm excited to have a little notebook to carry around again! I think it's been at least a year since I filled up my last Fat Book and SO much time has been wasted, waiting around without pen and paper to hand. I mean yes, I could always pack a sock to knit . . . . Hahaha. Who am I kidding? The shawl trapped in my desk drawer would leap out and throttle me if I picked up another set of needles!
Pen and paper are much safer companions over all.
Socks Off
(↵ returns to text)
Or is that, "in Awl"?↵