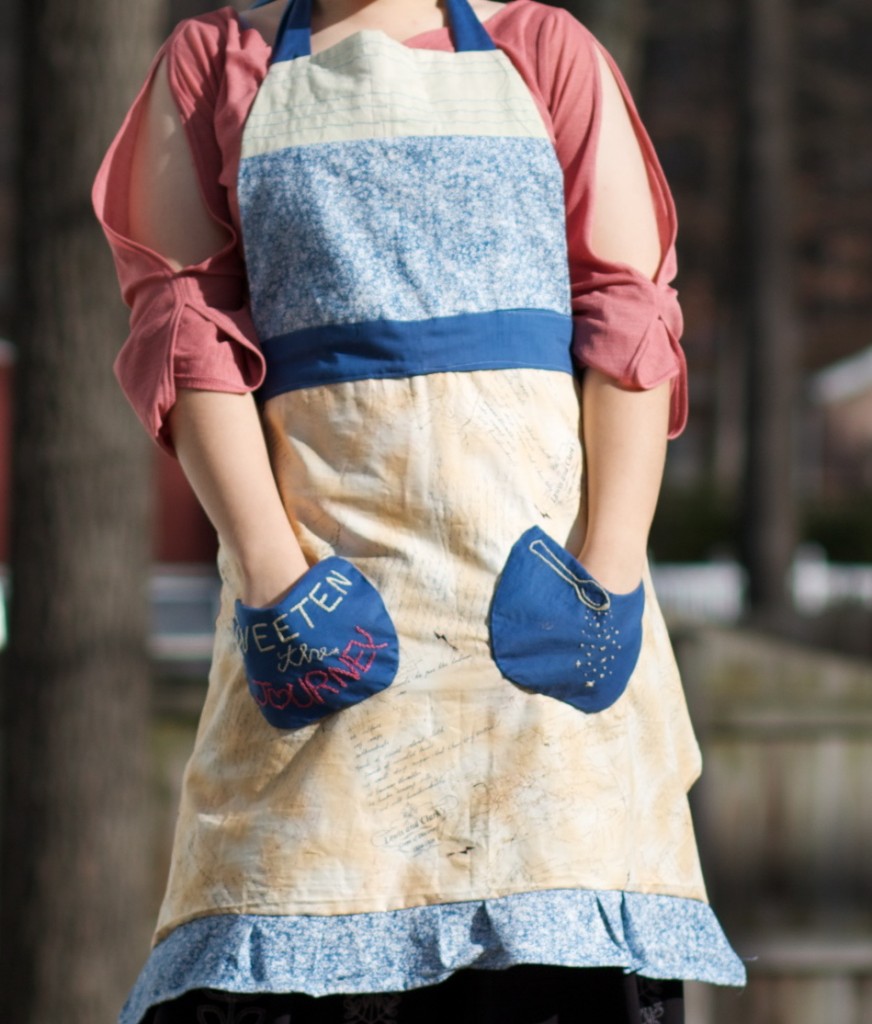 That's right, I have a finished non-food object for your wondering eyes to feast on. Or is that wandering eyes? You remember of course that pocket, which I referenced as recently as, what, three posts ago? Well, after being taken up, taken out, put down and laid away the two pockets have finally been stitched to the skirt of their intended apron, the skirt edges finished, the ties atached, and the bodice allowed to crown the whole thing, bringing it into completion.
It does feel rather nice to finally finish something, and something useful at that. But better than all else is how relaxing it was to sit and hand sew the pockets to the skirt. (Aren't they clever? I got them from By Gum By Golly). I wouldn't say that the activity was fun or enjoyable – certainly not as intoxcicating as, say, marathoning a TV show, or staying up until three finishing a book. Yet sitting in my own living room, with the christmas tree finally subdued in one corner and Karen Savage's soothing accent readingng out Persuasion from the speakers, what more could be wanting for a peaceful evening (and morning and afternoon) of employment?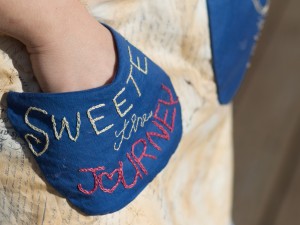 I discoverd a lot of things while making this apron, most of them things I had quite on purposely swept under the rug of memory. For instance, I don't like measuring twice, mostly becasue I find it difficult enough to measure correctly the first time. There is a bit of wonky stitching on the ties from where I haphazardly ironed the folds without any measuring or desire for consistency. This led to trouble when I went acros the bodice and couldn't see both sides of the ties. Whoops. Missed a spot.
More interesting, I found that I like hand sewing a whole lot more than machine sewing. I'm not any neater with my stitches when I sew by hand, but when I'm at the machine my greatest desire becomes Being Done and all my efforts focus toward speed. Hand sewing is soooo much slower by comparison that, even if I do think up a short cut, there is usually enough time to realize the flaws before I get there. What's more, as long as there is something to entertain my mind – like music or a book or, if trusted myself more, TV – I find I actualy like the process of hand sewing. The movement of the needle in and out of the fabric, the glint of silver, the clash or blending of colors, whichever it may be. I discovered this kind of contentment while crosstitching too, which is of course unfortunate because I can't help but think of cross stitching as one of those pretty but inherently dead-end arts, and hand sewing one's own clothes, while impressive, sounds dangerously close to, say, climbing mount everest with only one granola bar or watching paint dry in a room without proper ventilation.
At any rate, here is an apron as a testimony that we can focus and get things done. That hand sewing can be the highlight of your week. That Persuasion has more angst behind a single "good morrow" than a trunk full high school dramas. And that, yes, not even ruffles can keep you from getting flour stains.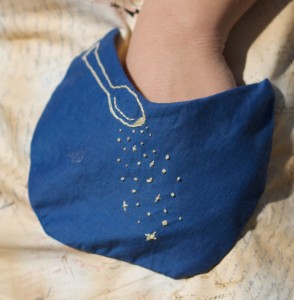 These are from when I "tried it out" by making cupcakes. I only reazlied it when I was eating them later (and reading the last chapters of the book, becasue reading is faster than listening) but the characters in Persuassion spend a bit of time visiting Lymes, England and I happened to make Lime, Cupcakes. If you think it's rather limp as a connection, I have it on good authority that lime can be used to crisp things up too – though that's mineral kind, and usually in relation to pickels. Anyway, I wish I could remember where I first read about lime cupcakes. I was going to make lime something for dessert anyway, because I had them languishing in my firdge, but I don't think cupcakes could have come to my mind without help. I used this recipe, utilizing all the juice from two limes (and using lemon-milk instead of buttermilk). I made the frosting too, but I couldn't taste any rum in and it was too sweet to put on already sweet cupcakes. Plus, depsite loving fat in all its forms and having no qualms with sneaking it out of the mixing bowl, I still cannot get past the idea that eating this type of frosting = digging into a stick of butter. I haven't had the desire to do that in the past, oh, decade or so (the last time I did my dad caught me. Enough said).
So, the stats for the apron:
Pattern:  Kitchen Confection's Pleated Apron
Fabric: Random bits that came from other people. The skirt, for instance, is left over from a history fair table cloth. The fabric for the pockets is from my Grandma N's collection.
Cost: All material I had on hand, so no cost at all.
Modifications: I couldn't figure out the purpose of the bodice pleats. They were dashed awkward, so I took them out. Then I forgot all about the pleating when I sewed on the pockets and ended up leaving that off too because it made the fabric near the pockets lay weird. I didn't line the skirt, but put the top between the right-sides-together waist ties and sewed the ties' sides and straight across. Then I turned them right-side out, ironed down the still open edge, stuck in the bodice, and top-stitched the whole shebang.
First worn: Saturday 14th, making Cupcakes
Make it again?: Yes. The bodice is too wide for me at the top, and probably too long too. Plus, whoever heard of a kitchen with only one apron? I already know what colors I want for my next one.
Hmm, what's better? Tasty cupcakes, tasty aprons, or finally getting something out of your workbasket?