The best part was the freckles,
the dash of magenta splotches across my right forearm. They were quite fetching, to my mind. But what made me laugh was taking off my glasses later that night and finding the dots well represented there as well, right in front of my eyes and yet invisible.
I made a salad of beets on Friday night, peeling them into strips and then modifying them into something thinner and easier to manage with a fork. I'm fairly incapable of being consistent in my sizing, but I think this was a nice compromise between "rustic" and meticulous. The salad was a hair brained thing, beets and carrots and apple, with a little coconut on top, drowned in ginger and lime. I saw half the idea in one place, muddled it together in my mind, and googled it to make sure I wasn't completely off my rocker. Sure enough, it had been done before – minus the coconut.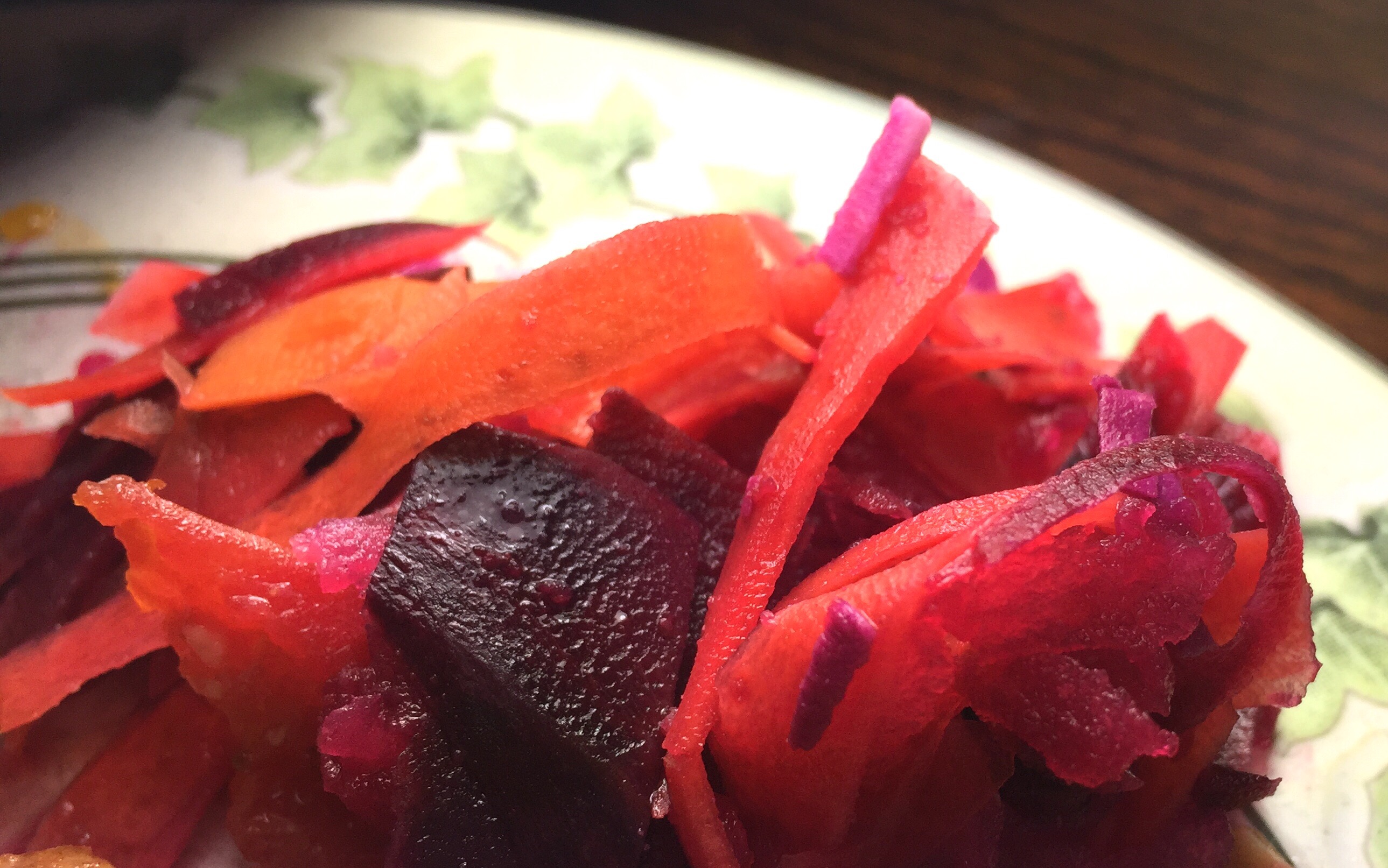 It was fun to put together, though it left my hands looking angry and swollen and decorated my walls with bright flecks of beet juice. It was also surprisingly well received at the brunch I went to, a relief for my fragile pride. I honestly prefer baking when in the kitchen, with stews and soups as a close second, and visions of biscotti taunted me all while planning, shopping, and creating this dish. But really, everyone brings a baked thing. A baked thing, an egg thing, a bit of fruit and a bit of cheese: these are the well-loved guests of the pot-luck breakfast. And they are lovely – I would truly miss them if they failed to appear. But they do appear, without fail, and there's little incentive to bring yet another of their number. Somehow it's much harder to bring something truly different, something fresh and perky, especially in winter.
In the process of defying this fact I've come to realize that, though I love vegetables in general, I don't really know what to do with them. Therefore one of my personal challenges this year is to stop bringing desserts to gatherings and start bringing salads. Interesting, quirky, mad-capped salads that might not waken the appetite but at least excite the imagination. This is naturally selfish, becasue I'm more likely to make a Thing for an Event than just for my self at home and I have no intention of trialing these dishes beforehand. The unsuspecting guinea pigs will be observed with discreet care and their responses tallied in secret until I have a nice little repertoire of non-baked, non-egg, non-fruit-and-cheese recipes that aren't too strange to be inviting.
For now I am eating the lime-scented leftovers of my first sally and imagining myself on a tropical island. Vive La Bagatelle.